Overview
Performance
Pump Curve
Technical Specs
Pump Materials
Dimensions
PUMP FEATURES
Heavy duty electric submersible slurry pump designed for pumping sludge and slurry mixtures.
Semi-open impeller designed to handle solids and slurries without clogging.
High chrome alloy construction of wear plate, impeller and agitator for exceptional abrasion resistance.
Dynamically balanced impeller for vibration free operation.
300 series stainless steel seal housing.
Water-tight epoxy potted cable entry.
Adjustable and replaceable hardened wear plate.
Triple seal system: tandem mechanical silicon carbide/silicon carbide and carbon/ceramic shaft seals with radial lip seal for three levels of sealing.
Hardened auger mixes solids and liquids to create a suspended slurry for effective pumping.
Electrical overload and thermal overload protection.
1 year warranty. Approved by UL, UL ©. Not currently CSA approved.
Motor capable of submerged operation to a depth of 65 feet and continuous operation in liquids up to 40°C without overheating.
MPR-6150 PERFORMANCE
Maximum Outflow

1,140 US gpm (4,315 L/min)

Shutoff Head

100 ft (30 m)

Solids Handling

1.4 inches (35 mm)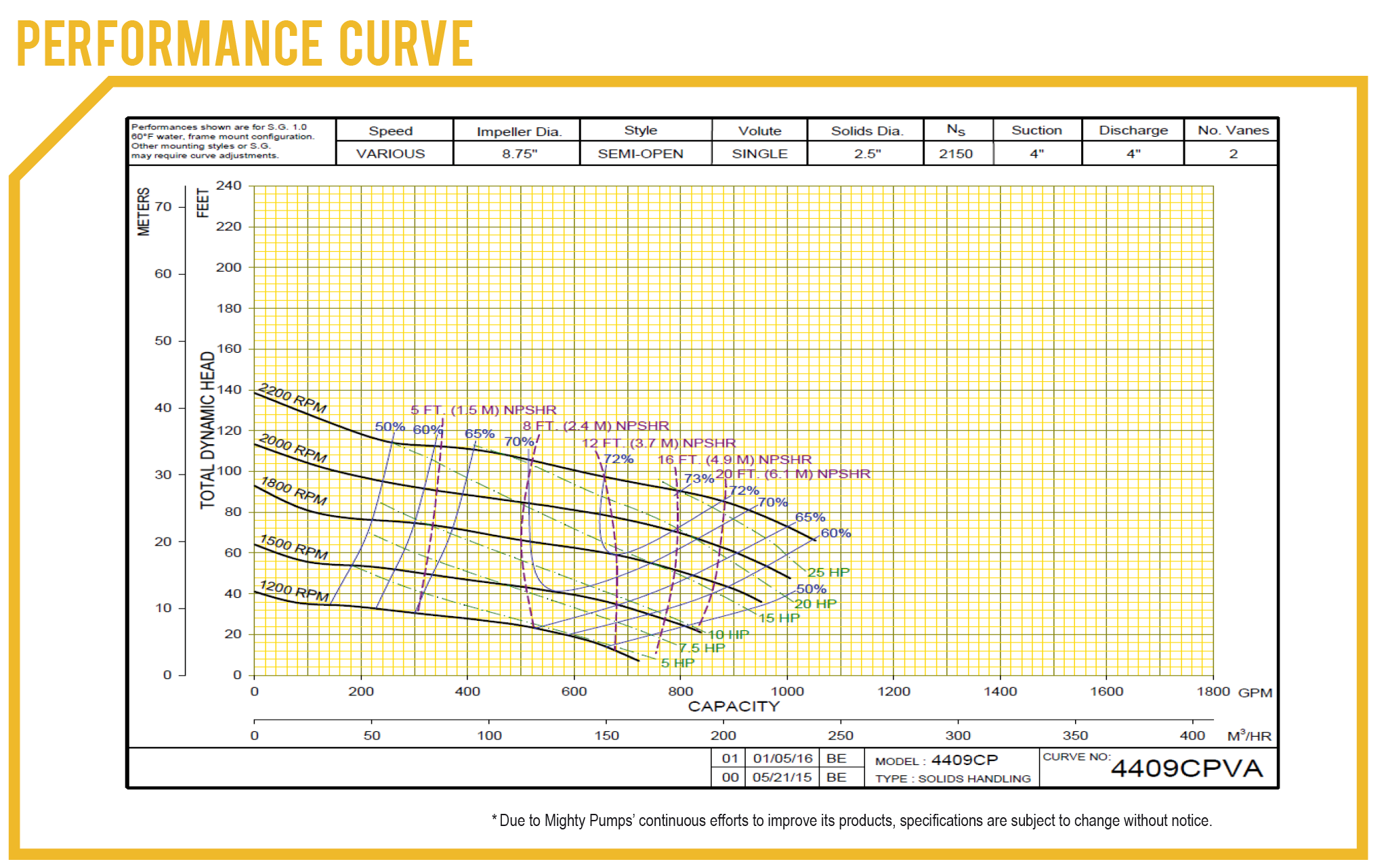 MPR-6150 TECHNICAL SPECIFICATIONS
Horsepower

20

Voltage

230/460 V

Current

30/60 A

Discharge

6 inches (152 mm)

Motor

3,450 RPM
MATERIAL SPECIFICATIONS
Discharge Head

FC-20 Cast Iron

Upper Cover

FC-20 Cast Iron

Pump Casing

FCD Alloy

Inlet Plate

FC-20 Cast Iron

Wear Plate

High Chrome Steel

Strainer

SC

Impeller

High Chrome Steel

Agitator

High Chrome Steel

Motor Frame

FC-20 Cast Iron

Bearing Bracket

FC-20 Cast Iron

Stator

CL-H

Rotor/Shaft

410 Stainless Steel

Oil Seal

304 Stainless Steel

Mechanical Seal

Duel Seal Silicon Carbide vs. Silicon Carbide Carbon vs. Ceramic

Cable Gland

NBR

Shaft Sleeve

304 Stainless Steel

Gland Holder

FC-20 Cast Iron

Thermal Protector

Bi-Metallic Thermal Switch

Bearings

Shielded

Cable

10AWG-5 with CPE Jacket
GENERAL DIMENSIONS
Weight

443 Ibs (201 kg)

Height

35.8 inches (909 mm)

Width

18.8 inches (478 mm)

Power Cable

50 ft (15.24 m)